/ issue 03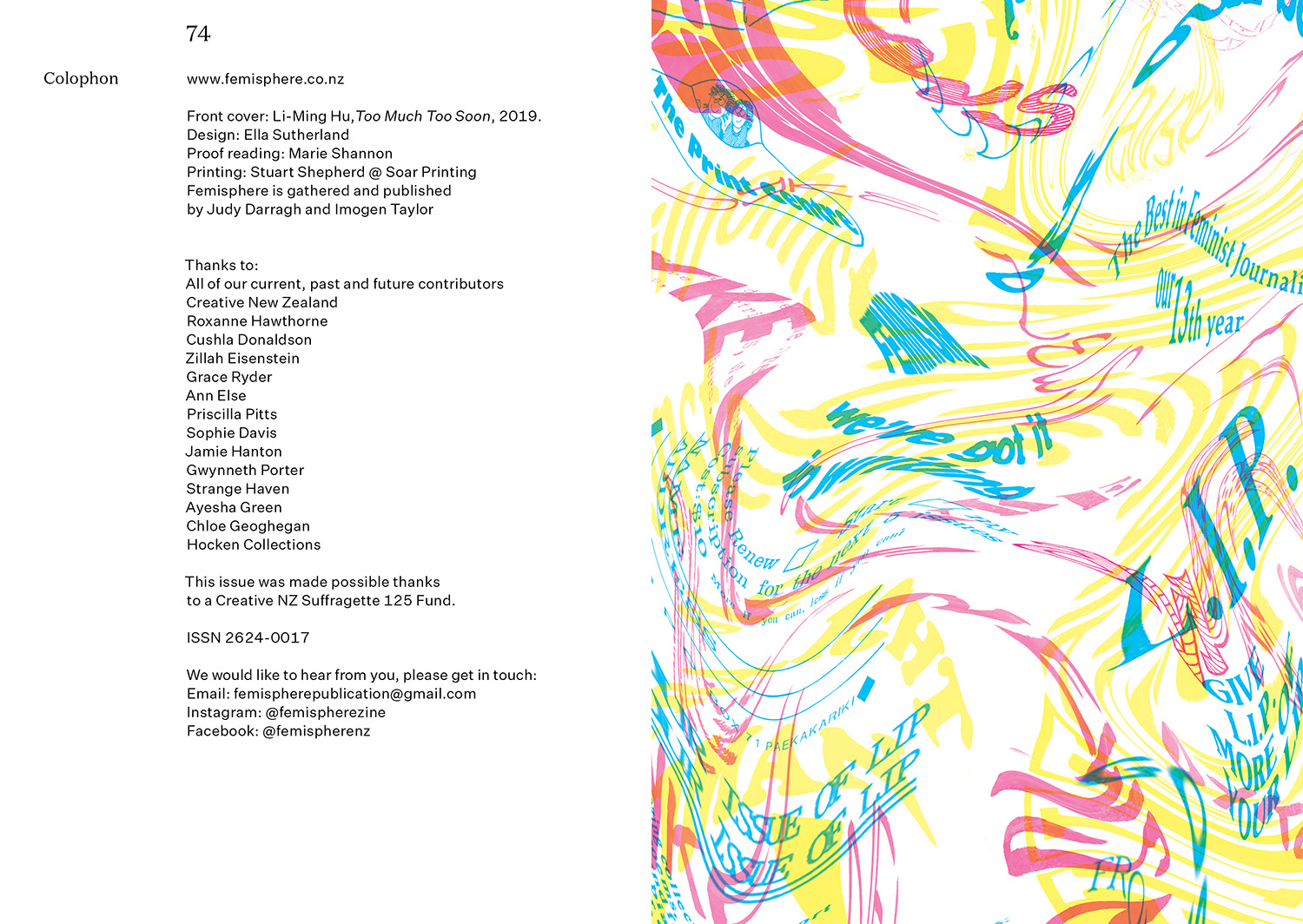 / issue 02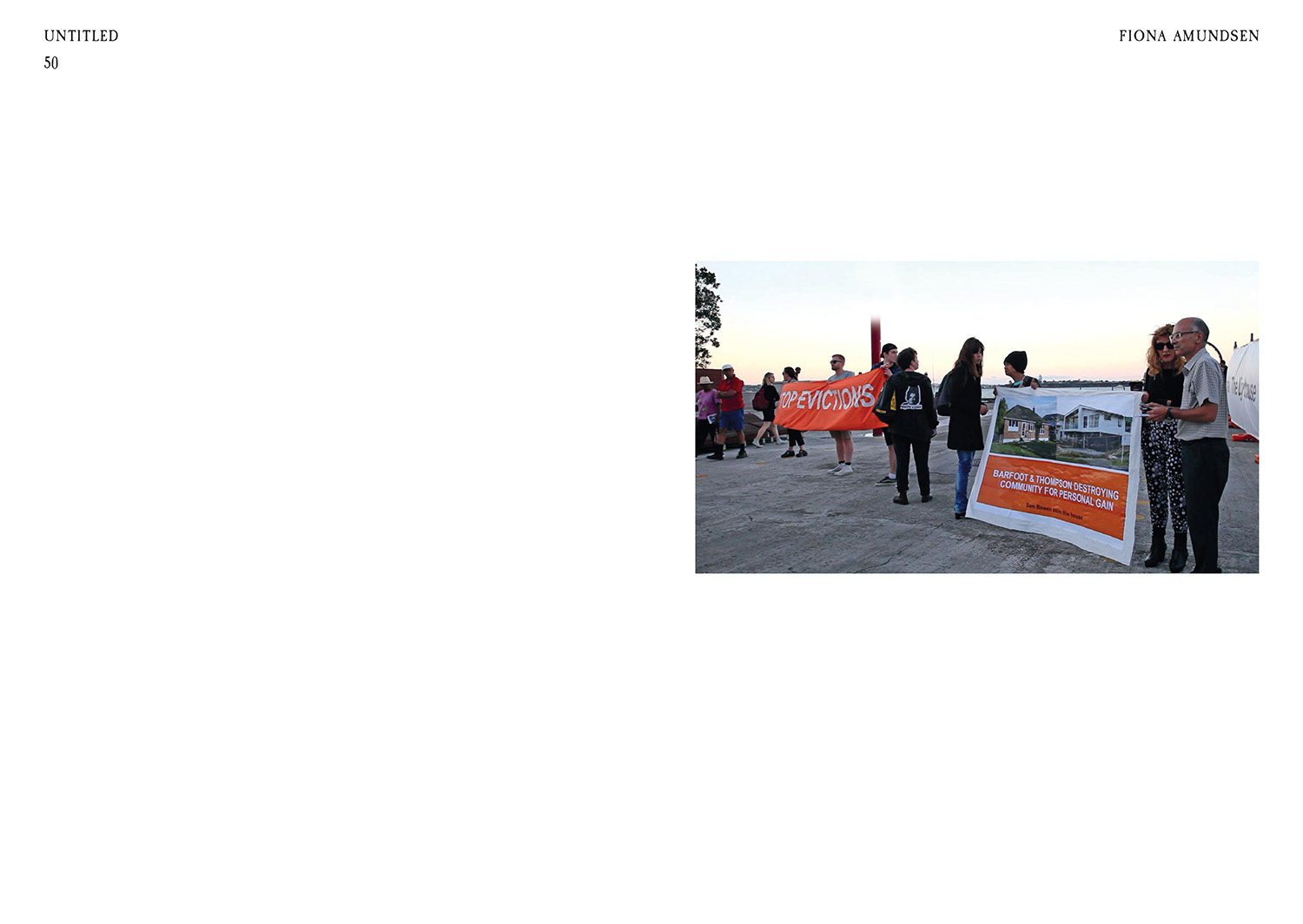 / issue 01

/ about
femisphere publication

Femisphere is a long-term project interested in encouraging inclusivity and visibility of women*s practices in the visual arts sector of Aotearoa.

Femisphere is our attempt at presenting a structure to support conversation around geographically diverse female artists from the past, present and future.

This structure is a series of publications or zines, each one showcasing responses and expressions from a rotational selection of artists, curated by publishers Imogen Taylor and Judy Darragh.

* Inclusive of all variations of gender that identify with the term / label of 'woman', whether it is in the past, present or future.
Judith Darragh lives and works in Auckland and played a significant role in the development of Artspace Aotearoa, Auckland, the independent artist-run space Teststrip, Auckland, and Cuckoo. Her work is renowned for brightly coloured sculptural assemblages of found objects, recycled items, industrial materials, collage, photography, video, and poster art. Her practice came to prominence during the 1980s in an era of conspicuous consumption, into which Judy modelled an artist who expanded with our views of material consumerism. Her work displays a fondness for everyday objects that are witty and provocative.


Imogen Taylor is an Auckland-based artist who grew up in Kororareka before moving to Auckland in the early 1990s. Known for flattened geometric configurations, Imogen's painting practice appears to resist any conceptual allegiances. Instead, she uses a process-based approach to explore a collision of modernism, queer theory and the act of painting itself. Taylor regularly exhibits with Michael Lett gallery in Auckland and recently exhibited a solo show with the gallery at Art Basel Hong Kong 2019. 
Imogen completed a residency at Parehuia, Colin McCahon House in Titirangi, in 2017, and is the 2019 Frances Hodgkins Fellow at Otago University, Dunedin.
contributors

Louisa Afoa
Anoushka Akel
Edith Amituanai
Fiona Amundsen
Elle Loui August
Kirsty Baker
Wendelien Bakker
Audrey Baldwin
Kathy Barry
Philippa Blair
Jordana Bragg
Heidi Brickell
Combahee River Collective
Bex Coogan
Judy Darragh
Matilda Fraser
Ioana Gordon-Smith
Ayesha Green
Turumeke Harrington
Li-Ming Hu
Lonnie Hutchinson
Ana Iti (Te Rarawa)
Fiona Jack
Claudia Jowitt
Yuki Kihara
Motoko Kikkawa
Yona Lee
Janet Lilo
Andrea Low
Melissa Macleod
Natasha Matila-Smith
Judy Millar
Maya Neupane
Christina Pataialii
Robyn Maree Pickens
Kim Pieters
Gwynneth Porter
Ahilapalapa Rands
Molly Rangiwai-McHale
Rosanna Raymond
Jennifer K Shields
Ella Scott-Fleming
Zina Swanson
Mariam Tawfik
Imogen Taylor
Isobel Thom
Jasmine Togo-Brisby
Ane Tonga

purchase
issue 01 — In print*
issue 02 — In print*
issue 03 — Available now at all good galleries
* Please email us at femispherepublication@gmail.com
if you are wishing to secure any back copies of Femisphere.